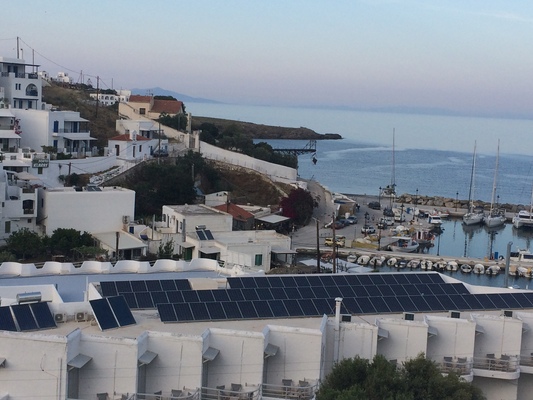 On 6th of April, the partners of the WiseGRID project will be coming together to showcase their findings and achievements in Brussels at Les Ateliers des Tanneurs. Its final conference is the end of a 4-year, triple award-winning process building tools to enable cooperatives, small and medium-sized enterprises, and other market players to participate equally in a decentralised energy system.
About WiseGRID
Coordinated by Spanish firm GRUPOETRA and developed alongside 21 European partners, WiseGRID created a set of 9 smart applications that have been tested and demonstrated under real-life conditions in 4 pilot sites in Belgium, Greece, Italy and Spain. Each application is tailored to support a different stakeholder in the smart grid system whether that's a family with a solar panel roof, a cooperative supplying its members with renewable energy, a grid operator managing the local grids, or an EV sharing company. The pilot sites are varied in order to take into account a range of environments such as in the mediterranean coastal city of Crevillent in Spain with its cooperative controlled grid, the umbrian city of Terni in Italy with its municipally owned DSO and the urban neighbourhood of Sint-Amandsberg in Ghent, Belgium. Greece offers its own challenges with a site in the non-interconnected island Kythnos testing the applications alongside its almost two-decade old microgrid and the second site in Mesogia; a grouping of Greek islands, disconnected from one another.
Importance
As the trends of smart grids, internet of things, and environmentally-conscious energy systems rise, it is important to see how these topics can come together to be mutually beneficial. The European Commission's Horizon 2020 funding supports projects leading innovative research in new areas of technology and tackling societal challenges, with WiseGRID fitting comfortably between the two, at a time when clean energy and climate action are topics rising up on the European agenda.
The results from this project will directly influence how citizens and experts will go forward in designing the energy systems of the future.
Programme
Interested to learn more? Register your attendance to the Final Conference. Includes an overview of achievements, panel discussion and networking lunch. Participate in hands-on demonstrations of the tools and engage in discussions with fellow participants.
We look forward to seeing you there!

Timetable
10:30 - Registration and coffee
11:00 - Welcome and introduction to the WiseGRID project - Mr. Antonio Marqués, ETRA
11:15 - Project achievements - Álvaro Nofuentes and Esteban Pastor
11:45 - Panel discussion and questions from the audience
• Josh Roberts, Advocacy officer, REScoop.eu
• Ine Swennen, Pilot site representative, Ecopower cv (TBC)
• Antonis Papanikolaou, WiseHOME developer, Hypertech (TBC)
• Francesca Santori, DSO representative, ASM Terni (TBC)

13:00 - Networking lunch
14:00 - Roundtables WiseGRID tools
| | |
| --- | --- |
| • WiseHOME, WiseCOOP | • WG Cockpit |
| • WiseCORP | • WG FASTV2G, WiseEVP |
| • WG STAAS/VPP | • WG RESCO |
15:30 - Closing - By Antonio Marqués, ETRA
15:40 to 16:00 - Networking drinks
When/Where
Monday April 6th from 10:30 until 16:00
Les Ateliers des Tanneurs, Rue des Tanneurs 60A, Brussels, Belgium
Contact
Website: www.wisegrid.eu
Mail: vaiva.indilaite@rescoop.eu
Register - Limited spaces!
https://wisegrid.corsizio.com/c/5e2ef98e2506088122430b20