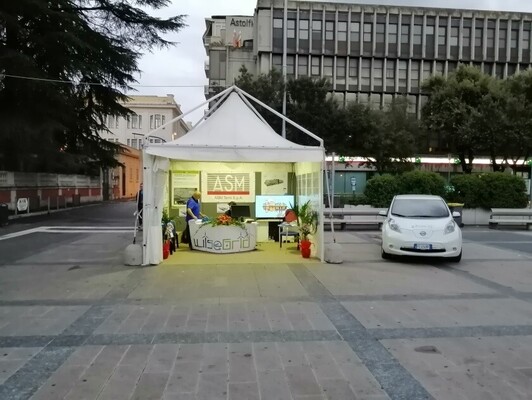 On the 21st and 22nd of September 2019, from 6 to 12 pm, ASM Terni, pilot site partner in Terni, organised a WiseGRID citizen engagement event in Piazza Tacito, Terni, in the light of the TerniOn city festival. Thousands of people from the city and neighboring cities gathered together in the streets and squares in Terni. During TerniOn, all the shops stayed open at night, many organisations had a stand on the streets and people could enjoy some concerts.
ASM decided to take advantage of the occasion to organise a citizen engagement action in the format of a stand dedicated to the WiseGRID project and its tools. The stand was made of a 4x4 m pavilion that was located in one of Terni's most busiest squares. A video about the WiseGRID project was projected and two tablets and a computer were made available to show the interested public a demonstration of the WiseGRID tools. Moreover, some banners, leaflets and pilot site factsheets decorated the stand.

Completely in line with the topic of energy, WiseGRID customized power banks were created, and given to citizens who were interested in the topic.
Furthermore, in order to make the project more tangible and interactive for the public, a SLAM meter connected to a food warmer was monitored using WiseGRID tools.
Finally, an electric car with the "WiseGRID" and "ASM" logos was located next to the stand.
The main aim of the stand was to create a thematic island about electric mobility, smart building and smart energy management. The idea was to inform and involve the citizens of Terni to share thoughts and ideas. Many involved companies active in the energy sector in Italy were contacted to share information and dissemination materials. During the first night of the event the CEO of Midori (an innovative start-up from Turin) presented the company's innovative devices and ideas.
About 200 people showed interest in the WiseGRID project, of which 80 people actively participated in conversations about the project tools and signed the participants list.